Finding balance with hybrid working
In the last decade, there has been a dramatic change in how and where people work. The Covid-19 pandemic has further accelerated this trend and hybrid-working models are now commonplace.
But regardless of whether employees work from home or the office, it is still essential to equip them with the knowledge and skills to do their job well.
So what's the best way to go about this?
Posted 3 March 2023
Getting the fundamentals right
Firstly, it's vital to ensure your employees know how they are expected to work effectively in a hybrid set up. According to the CIPD, training should help with:
"Practical management of hybrid working arrangements. This might include managing requests for hybrid working at an individual and team level, implementation of new ways of working, co-ordinating hybrid schedules and managing hybrid meetings.
Developing the skills to ensure effective communication, performance management, team and relationship building and collaboration in hybrid teams."
The CIPD also highlighted the need for managers to be given guidance on ensuring inclusion and diversity, engagement and inductions, to ensure a distributed team can work together successfully.
However, it's important for all of your people to feel that their development is a priority for the organisation, since this will help motivate them to do their best work. To this end, it's worth sharing your strategy for learning delivery so that everyone knows what training is available, how to access it and what to expect.
With this in mind, one of the key questions you might have is 'how do I go about delivering training to my hybrid workforce in a consistent and cost effective way?" And that's where a good digital solution, which includes a robust digital learning platform, can help.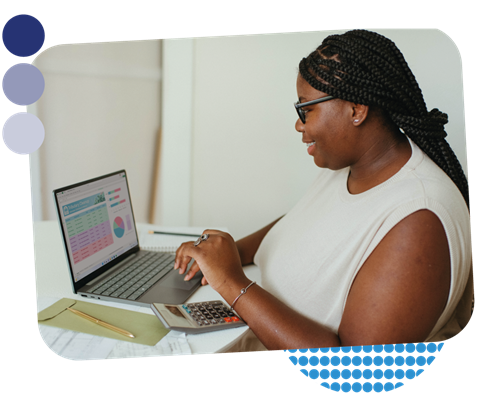 Learning platforms for hybrid working
A learning management system (LMS) will allow you to deliver training and development programs to your employees and track their progress and performance. A good learning platform will even help you deliver learning offline so you can ensure that everyone is receiving the same training and development opportunities, no matter where they are located – even in areas where internet connectivity is poor. You should also be able to organise and manage bookings for training, whether online or in-person, so you can manage your whole learning offering in one place.
Hybrid working has also increased the demand for personalised learning. With employees working remotely and at different times, it is beneficial to look for ways to tailor your training to suit your employees' needs and preferences.
A learning management platform will allow you to tailor content by role and provide users with a library of different training and development resources for them to personally select the training most relevant to them, in the flow of work. For example, employees can choose to complete online courses, attend virtual training sessions, or participate in collaborative learning activities with their colleagues.
By providing employees with more autonomy and flexibility, organisations can help to ensure that everyone has access to the training and development opportunities that they need to succeed.