Accessible Bespoke eLearning Helps RNIB Support Employment Professionals and Jobseekers
Setting the Scene
The Royal National Institute of Blind People (RNIB) is a charitable organisation that supports people affected by sight loss, including providing training and consultation to businesses and professionals working in social care, health, education, and employment. RNIB wanted to develop their training offering for employment advisors to enable them to provide better support to the 11,000 people with sight loss in the UK who are currently active job seekers, as well as help the individuals themselves to find employment opportunities. RNIB are committed to supporting employers to become more inclusive for people with sight loss.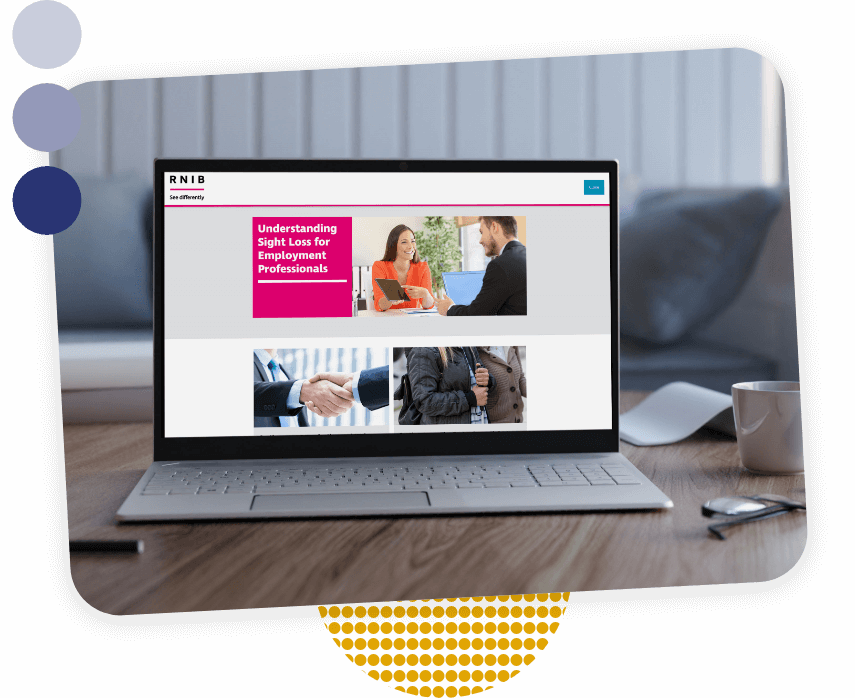 The Challenge
When creating 'Employment Professionals', a training course for employment advisors, the main challenge for RNIB was how to reach a geographically dispersed audience. It was also important for the training to be as flexible as possible. Because social and technological exclusion significantly affect people with sight loss, RNIB also wanted to provide training and support to job seekers with sight loss to help them find new opportunities. Accessibility was key as was the requirement to support learners with varying levels of digital literacy, using different types of assistive technology. To help organisations become more inclusive employers for anyone with sight loss, RNIB wanted help to create a programme of self-directed learning that would help increase the number of people with sight loss applying for opportunities, as well as helping the organisations confidently retain existing staff who develop sight loss.
Register below to unlock the full story
Discover how we solved this real-world challenge, and see how this could work for you too.
What our clients have to say

I think the training was very in-depth and valuable, also very easy to navigate and understand. It is a great resource, so thank you very much.