What is it like using our LMS platform eNetLearn?
When you're considering a new learning management system (LMS), such as eNetLearn, we understand there's a lot to think about. And even after doing your research, no doubt you'll be wondering, 'But what is it actually like to use?'
Well, to help answer that question, here's a short FAQ-style post, to reassure you that eNetLearn customers really do enjoy a world-class user experience (UX).
Posted 18 October 2022
Yes. We pride ourselves on the superior levels of support we provide to our clients. You'll be given full training from the outset, from our dedicated support team and there's also a range of further support options available, to help you get the most from the LMS platform.
Depending on the level of customisation involved and the type and nature of the content you require, eNetLearn could be ready to use in as little as a few weeks - maybe even sooner! For more information, please read: How long does LMS Setup Take for eNetLearn?
Yes. There are help buttons on every screen within the LMS platform to support you through the various tasks, helping you to choose the options that will help you provide the best support to your people.
As eNetLearn is a SaaS-based product, any updates to the system are automatically applied, so you can be confident that you'll always have access to the latest version, without having to do anything.
There are a couple of options for setting up new learners. And how you intend to use eNetLearn will determine which one is right for you. Self-registration allows learners to add themselves into the system, which is useful for giving users immediate access to their content, e.g. in eCommerce situations. Alternatively, if you're using eNetLearn to support learners within your own organisation, you can upload them in bulk.
You'll be pleased to know that, with eNetLearn, LMS maintenance is easy. A new course can be added to eNetLearn in as little as 3 clicks. And an old one deleted in as little as 2 clicks.
You can easily make your content available to everyone across your whole organisation, or to specific groups of users, e.g. those working in a particular job role or department, with only a few clicks of your mouse. This enables those users to see and access only the content that is relevant for them.
Yes you can. In fact, it's easy and quick to change the terminologies used on the platform so, for example, Training becomes Learning. You can also add in customised fields for the registration process which, is very useful and learners can upload their own photograph.
Absolutely. Certificates can be easily created and added as part of learning journeys.
With eNetLearn, you can easily see the full picture of learning across your organisation.
You can get reports on which courses have not yet been started, the ones that are underway and those that have been completed, at company, department or individual level. And all reports can be exported, so you can manipulate, analyse and present the data as you wish.
eNetLearn comes with a range of market-leading data encryption and security features, such as single sign-on, built-in as standard. And as an organisation, eCom has Cyber-essentials plus and QG GDPR certification, so you can rest assured that your data is secure.
As eNetLearn is a SaaS-based LMS, you'll benefit from regular security updates which will be automatically applied, to keep your data as secure as possible, so you don't need to do anything at all.
Yes. eNetLearn was developed with ease of use and accessibility designed in from the outset, in partnership with the RNIB and Mencap. Because of this, eNetLearn LMS meets the highest accessibility and usability standards.
We've had some very good feedback on this from customers as well as industry centre of excellence, Learning Light, in which they said that:
"Mr Spock (of Star Trek fame) himself would be proud of the logic of this UI and UX design for managing content and learners."
The review also highlighted that Screen layout is precise and navigation is clear. As an example, here's an image of the eNetLearn Dashboard, showing recent courses, together with a course attainment graph, giving an at-a-glance view of progress.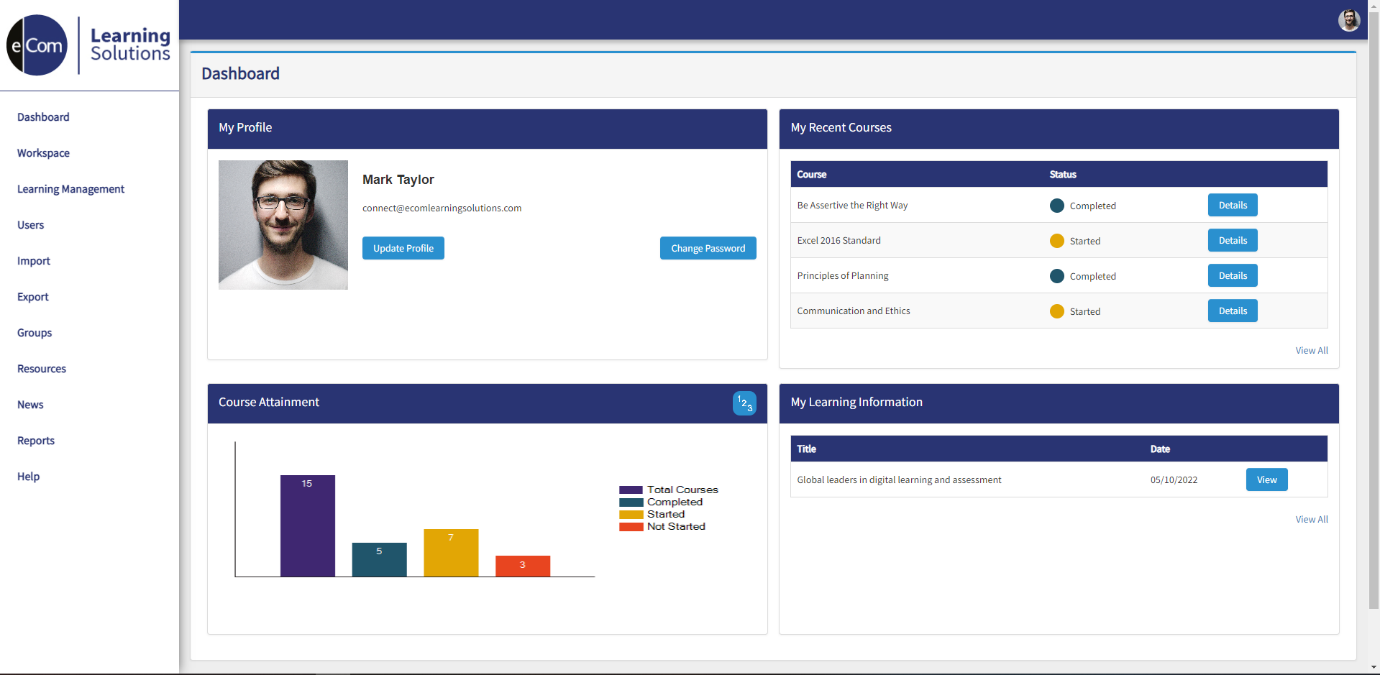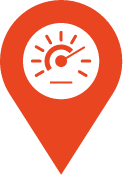 Take a Tailored LMS Test Drive
We'll provide you with a tailored, fully-branded instance and demonstration of eNetLearn for you to use and evaluate free for 30 days.
Signup is easy. Just fill out and submit the form and we'll have your branded demo site ready within two working days.